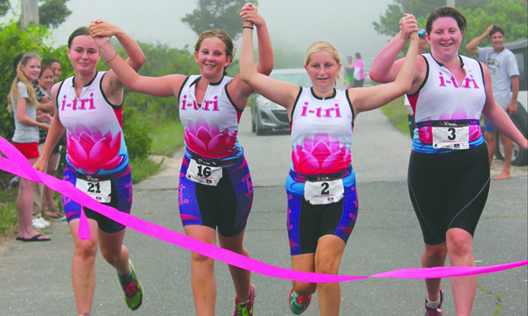 "This is so amazing! Thank you so much. Honestly its an answer to my prayers right now!"were words expressed by Theresa Roden, an amazing woman and founder of the non-profit foundation, i-tri. Please find their inspiring mission at www.iTriGirls.org.
How did we come to find the opportunity to help? It all started when a family member mentioned this year that she didn't want to receive gifts or go out to celebrate her birthday. Instead, this year she was inviting the tribe of woman she surrounds herself with and has walked through fire with (including me) to her home for a party for all of us - a Goddess party! It was a night to celebrate our power as women and celebrate each other without judgement. History illustrates the difference in the treatment and rights women have had. Those differences would create the perception that we are less than and not contributing as much as our fellow humans but as I hope all of you know and our society well illustrates...we are literally doing it "ALL".
Read More
There was a part of the evening that we were invited to mention something good about ourselves and this was a difficult task! There we were, a room filled with accomplished and successful adult woman but yet each one of us would pause, needed more time, we stuttered and some accidentally mentioned what was wrong instead. This in itself embodies what i-tri is working to change. Their mission is to change this pattern and foster confident young girls in a powerful and dynamic way!
Not only did this family member invite us for a beautiful evening, she asked her guests that if they wished to bring something to let it be for The Promise of Hope Foundation's second annual Gala this past March. The women were GENEROUS! Of course, they are Goddesses! This ended up serving as one of the most successful auctions and included a weekend in the Barzilay family's home in a beautiful area on Long Island.
This momentum of giving was all born from the fire of a woman blazing the way to inspire others. So committed to this, the Goddesses decided to match a portion of the auction amount and put it towards the mission of empowering the next generation of women to be able to say "THANK YOU, IT'S TRUE!" when someone compliments them.
During this time I was speaking with many about the cause of empowering women and someone mentioned Theresa's amazing foundation formed on the same premise.  Reaching so many at risk young girls, i-tri builds them up emotionally, socially, physically and prepares them to move forward in life with tools to succeed and believe in themselves even if others say "you're not good enough!"
As you may have said to yourself once or twice, there are no coincidences. I certainly did so when I heard that Theresa's home base for i-tri is in close proximity to the Barzilays and someone they both know within their community, that was no coincidence. With the Barzilay's donation and a donation from the Promise of Hope Foundation, we are helping i-tri with costs needed to execute the race the girls will run, swim and bike this Saturday! (See flyer) as the culmination of the program.
Promise of Hope's mission is to provide assistance, encouragement, and support to individuals, families and other foundations in need. Our desire is to provide hope and improve the needs that exist in our communities. We are committed to creating positive empowerment. I-tri is run solely by donations so with the spirit of the Barzilay family and the Goddesses and their families involvement I know we will help change these girls lives and inspire others to shine their light!
Thank you to all that contributed and a special thank you Theresa Roden and all the volunteers and professionals supporting all that you do. Most importantly our sincerest gratitude for allowing myself, and my partners Scott and Michael the opportunity to be a part of your mission.
I will be there this Saturday to cheer the girls and their families.
I hope to see you there.
Warmly,
Tammy
Read Less